Bathroom Lighting
Top-Quality Bathroom Lighting Products And Expert Design At The Light Palace
Modern Bathroom Lighting Design At The Light Palace
From lighted mirrors to four light or more fixtures, our 10,000 sq. ft. lighting store has top-quality fixtures for every style and decor preference. For stunning bathroom lighting and design solutions, schedule an appointment at The Light Palace today. We look forward to serving you.
Whether you prefer ornate chandeliers or a simple pendant, our lighting showroom is stocked with a plethora of options to help you create the perfect bedroom lighting for you. Browse our selection of lights online and call to schedule a design appointment. We look forward to helping you create the bedroom of your dreams.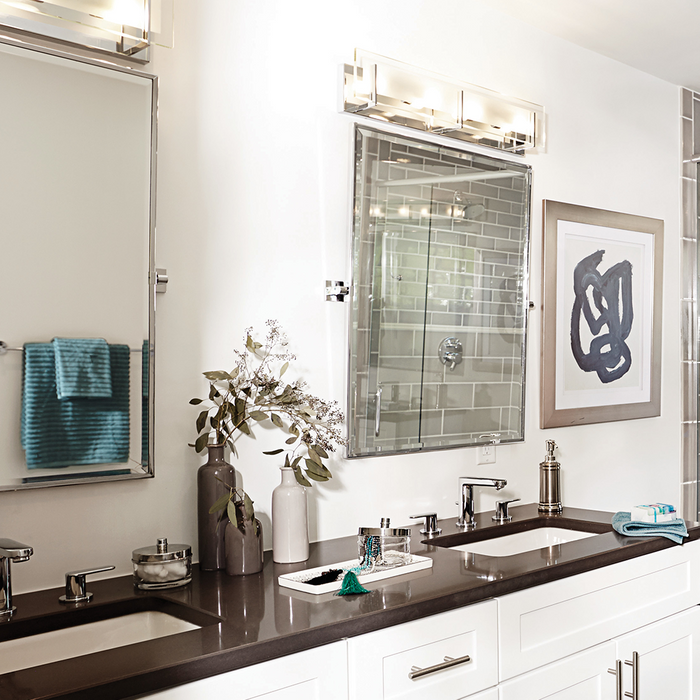 Why Is The Light Palace Your Top Choice For Bathroom Lighting?
Serving Omaha and the surrounding area since 1953
Comprehensive inventory of high-quality lighting products
Personalized design consultations to meet your lighting goals
Unwavering dedication to customer satisfaction
And more
Bathroom Lighting Ideas
While there's no substitute for a design professional with years of experience, here are some helpful tips to keep in mind when thinking through brand new bathroom lighting:
Account for natural lighting. Keep in mind how your bathroom lighting will look both when the sun is shining and when it's not. Observe how natural lighting hits your walls and other features and choose fixtures that'll complement and enhance it.
Start with the ceiling and move down. Make sure the major areas of your bathroom (shower, vanity, toilet) have general illumination. Recessed or ceiling-mounted fixtures are a great way to go.
Go LED. LED bulbs won't just save you money on energy costs. Their minimal appearance will give you a modern, clean-lined look and feel.
Schedule An Appointment At Omaha's Top Lighting Store
To create the perfect bathroom lighting, top-quality products must be married to excellent design. At The Light Palace, we offer one-on-one design consultations to help you create the bathroom you've always dreamed of.
Stop by our showroom or schedule an appointment online to ensure we're ready for your arrival.