Kitchen Lighting
Expert Design Advice And Stunning Lighting Products From Light Palace
Top-Quality Kitchen Lighting At Omaha's Top Lighting Showroom
You and your family spend a lot of time in the kitchen: cooking, cleaning, doing homework, having a midnight snack. It's no wonder the kitchen is commonly called "the heart of your home." As the heart of your home, your kitchen deserves tender, loving care. As such, your kitchen lighting shouldn't be used to merely create a functional space, but a beautiful one as well.
When you choose our Omaha lighting showroom, you'll not only have thousands of high-quality kitchen lighting fixtures to choose from, you'll also receive a personalized consultation from one of our lighting experts. From stunning pendants to wall sconces and even under cabinet lighting, we have everything you need to take your kitchen to the next level. Stop by our lighting store or call to schedule an appointment.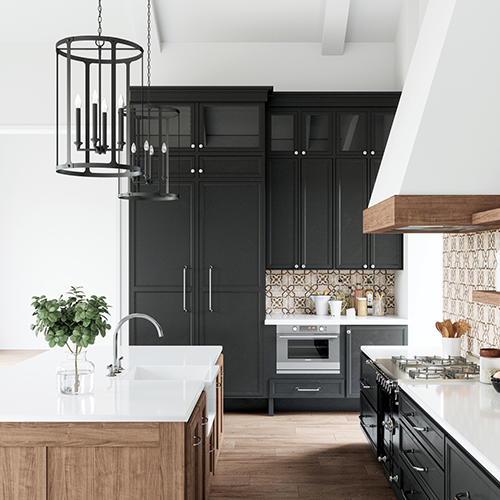 Why The Light Palace Is Your #1 Source For Kitchen Lighting
65+ years of experience in the lighting industry
One-on-one lighting consultations to help you create the kitchen of your dreams
Wide range of stunning lighting products to match your unique preferences
Staffed with some of the region's top lighting design specialists
Top-quality electrical parts, light bulbs, and supplies with United Electric Supply
And more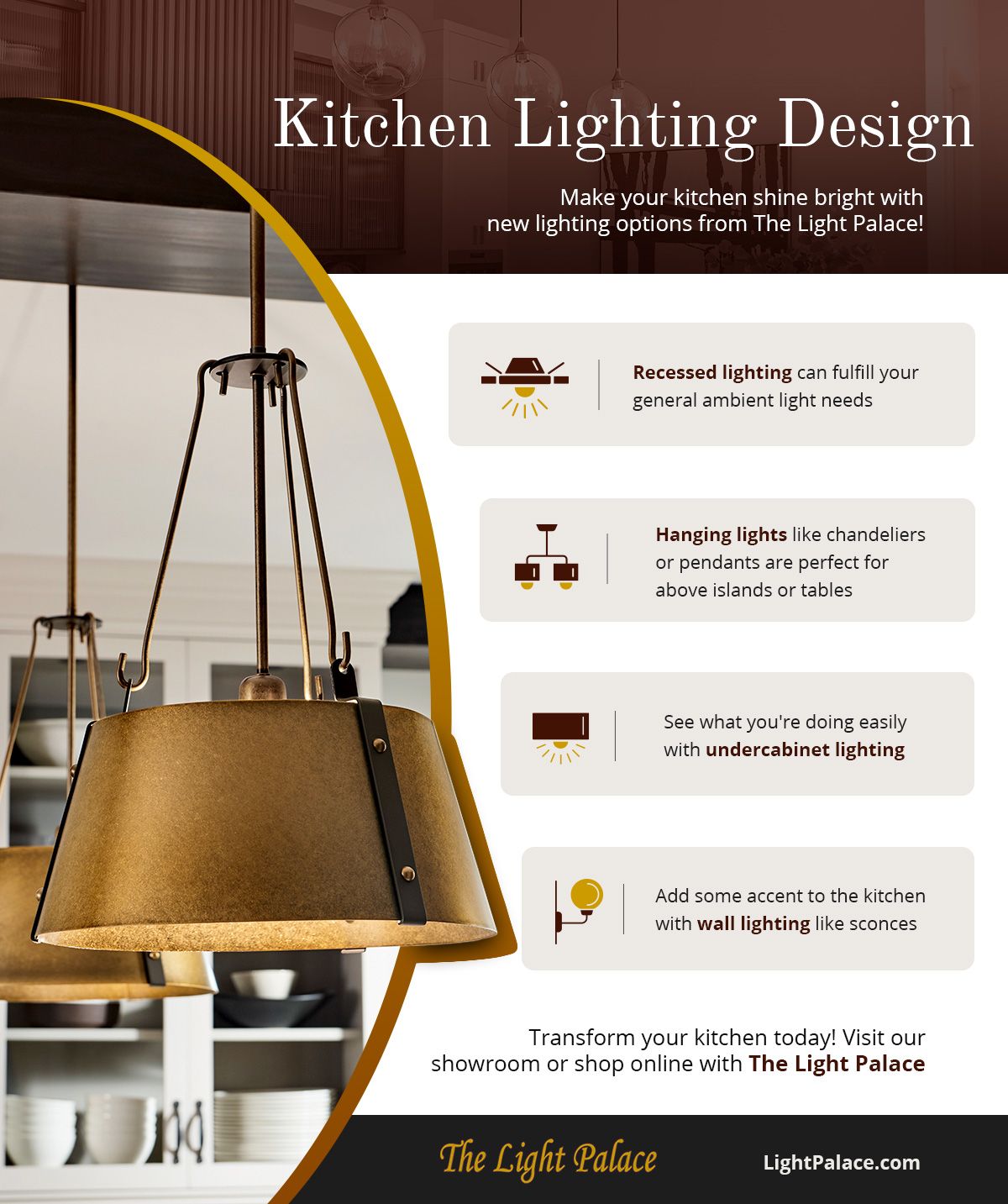 TYPES OF KITCHEN LIGHT FIXTURES
When setting up your kitchen lighting strategy, it helps to understand all the types of lighting available to you. Below, we'll cover some of the most popular types of kitchen lights and how you can use them effectively, meeting both your illumination and aesthetic needs.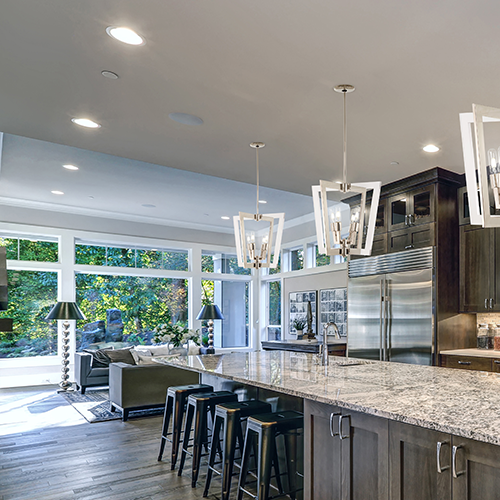 Kitchen Recessed Lighting
When it comes to ambient (general purpose) lighting in your kitchen, you can't go wrong with recessed lighting. These fixtures are sleek, low-profile and can help you achieve an even distribution of light throughout your kitchen. The spots where you need lighting for specific tasks are better done by other types of light fixtures.
When figuring out your ambient lighting strategy, be sure to take the sun's natural lighting into consideration. Be aware of the lighting you'll need during the day and during the night. Keep in mind that you can always install dimmers to control brightness levels.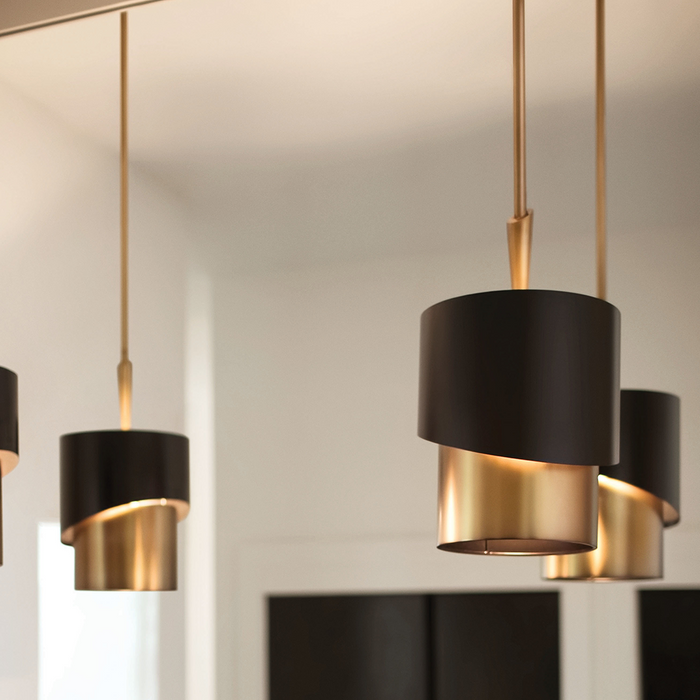 Hanging Lights
Hanging lights not only provide much-needed lighting to accomplish specific tasks, they'll also be one of the visual centerpieces of your kitchen. Island lights and pendant lights are some of the most popular options in the kitchen.
When selecting these types of fixtures, be sure that they meet your task lighting needs. Pendants and island lights that provide a strong downlight are great for food preparation. However, you may prefer fixtures that cast light across an entire surface.
Other than that, simply pick something that works well with your decor and feels right. Selecting new light fixtures should be fun and not incredibly complicated.
Undercabinet Lighting
One of the limitations of recessed ceiling lighting is that they often leave dark shadows under cabinets, making it very difficult to use the spaces to their full potential. Undercabinet lighting is a modern kitchen lighting design trend that can add a surprising level of depth to your lighting strategy.
Many types of undercabinet lighting require no electrical rewiring, meaning you can just install and plug them in. When choosing fixtures, make sure to find lights that are shallow and can fit neatly out of sight. Since undercabinet light fixtures aren't designed for aesthetics, you only want to see the illumination, not the fixture itself.
Kitchen Wall Lighting
The right use of wall lighting can really add an extra layer of illumination and beauty to your kitchen. Wall lights, like sconces, aren't there to steal the how. They can provide a little extra light or be used to draw attention to architectural features or art you're displaying in your kitchen.
Transform Your Kitchen At The Light Palace
Getting your kitchen lights just right isn't always easy. Finding the perfect blend of beautiful design and functionality, while staying within your budget can feel like a monumental task.
That's where we come in. At The Light Palace, we believe that stunning kitchen lighting solutions should be accessible, affordable, and easy. Our lighting consultants will work with you to create a marriage of function and beauty that'll make your kitchen a space you can enjoy for years to come.
Browse our selection of lighting products online and then schedule an appointment. We look forward to meeting you.