Pendant Fixtures
Omaha Lighting Store With Expert Consultants And Top-Quality Lighting Products
CREATE BEAUTIFUL LIGHTING SOLUTIONS
AT OUR OMAHA LIGHTING STORE
Are you in the market for new lighting but don't have a clue where to start? Our lighting consultants at the Light Palace are here to create the perfect lighting solutions for your unique needs.
Pendants are a versatile lighting feature that can easily be the star of your entire lighting strategy. If you'd like to speak with one of our experts about what pendants would fit perfectly into your residential or commercial space, call or stop by our lighting store today.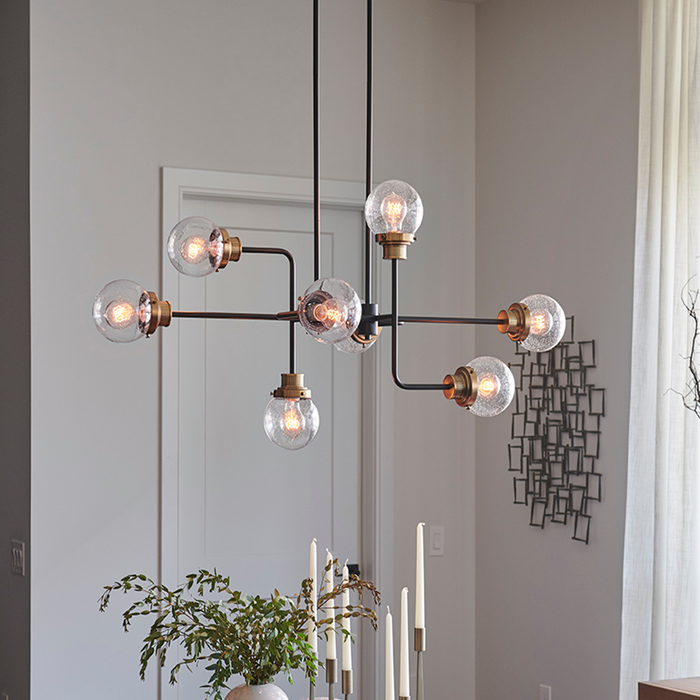 WHY IS THE LIGHT PALACE YOUR TOP CHOICE FOR LIGHTING SOLUTIONS IN OMAHA?
Local-owned-and-operated since 1953
Nearly 10,000 pendant lighting fixtures for you to choose from
Assistance with residential and commercial lighting design
Personalized consultations with experience designers
Convenient location in Omaha
Open on Saturdays
And more!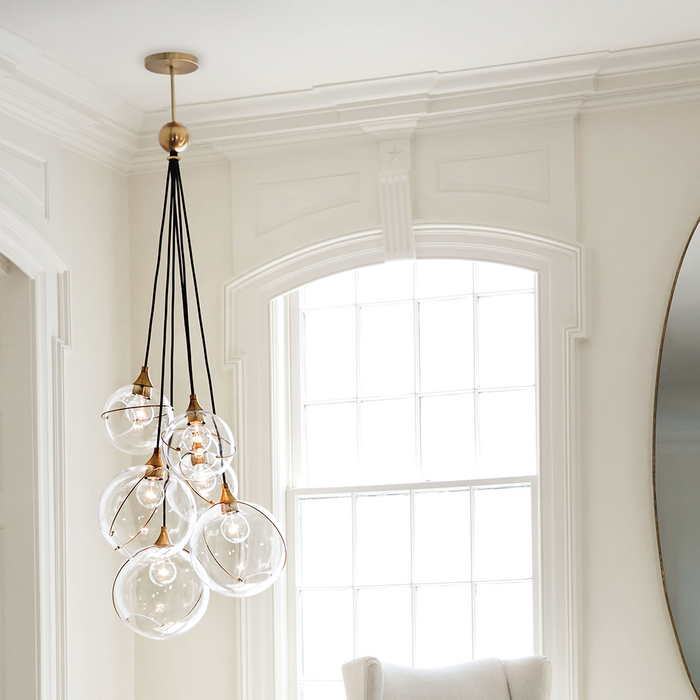 PENDANT LIGHTING OFFERS VERSATILE LIGHTING SOLUTIONS
When it comes to ceiling lighting fixtures, pendants are perhaps the most versatile. You can make a single or multiple pendants the main ambient lighting feature of a room. Or you can use them for task and accent lighting as well.
At the Light Palace we carry a selection of nearly 10,000 pendant lighting fixtures. With such a large selection to choose from, you're sure to find a pendant — or multiple ones — that will create exactly the look you're going for.
FINDING THE PERFECT PENDANT LIGHTING
One of the best things about pendant lighting is that there are so many different styles to choose from based on your aesthetic preferences and the decor of your home. There's a lot to be excited about!
However, before you start picking out a style, the first thing you need to think about is measurement, both in terms of the pendant itself and how long the downrod the pendant hangs on needs to be.
Here are some measurement guidelines that can help you in the right direction:
For relatively standard eight foot ceilings, we recommend that pendants hang between 12 and 18 inches below the ceiling. For every additional foot of ceiling height, add about three inches to the total.
You can also consider pendant height based on the surface it hangs above (i.e. kitchen islands, dining room tables, etc.). If you have 30 to 36 inches of clearance, that should be sufficient lighting for most tasks.
At the Light Palace, we are also big advocates in being able to control your lighting, so make sure you install dimmer switches so you can set the mood and raise and lower brightness as necessary.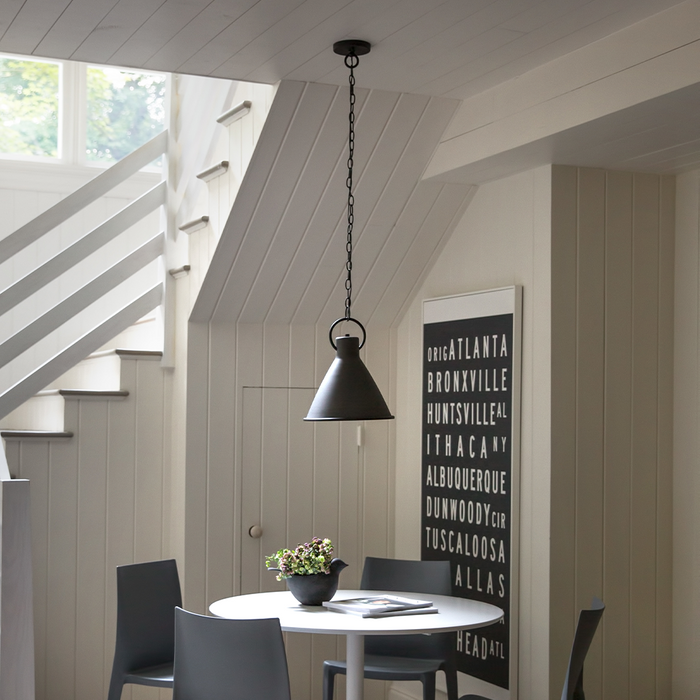 How To Effectively Use Pendant Lighting
Pendant light fixtures are incredibly adaptable and can be used for every layer of lighting: ambient, task, and accent.
Lighting designers break up lighting into these helpful categories for both practical and aesthetic reasons. Here are some of the ways you can use pendant lighting to effectively accomplish each layer:
Ambient
Ambient lighting is the general source of lighting used to illuminate a room. Pendants can do a great job as an ambient lighting source, especially if used in conjunction with multiple fixtures. Whether you install them in a row, or strategically place them throughout the room, you'll have sufficient lighting and a beautiful display of fixtures.
Also, remember that a larger fixture doesn't necessarily provide more light. If you want to light a large area with a single pendant, consider a fixture that has multiple bulbs. This is a great strategy for smaller rooms like bedrooms and home offices.
Task
This is one of the areas in which pendant lights shine the brightest. When installing a row of pendants over a kitchen island table, you'll have focused lighting that'll allow you to accomplish the most meticulous of kitchen tasks with greater ease and deft.
You can also use single pendants as a great reading light for a nook or to give additional light to a workspace. Make sure to use a pendant that shines down, if you're going to use it for this purpose.
Accent
One of the coolest ways we've seen mini pendant lights used is in combination with track lights to highlight art pieces or exquisite architectural details. Remember that lighting doesn't always have to serve a purely practical purpose. Use it to help bring attention to areas of interest.
WE OFFER OUR DESIGN HELP TOO!
While we hope some of the tips we provided above were helpful, we also realize that there's no substitute for the advice of an experienced lighting design expert.
That's why our lighting store employs some of the most-talented lighting consultants in the region. This means you can turn to us to provide residential and commercial lighting solutions that will brighten up and beautify any space.
So stop by the Light Palace's lighting showroom or fill out our contact form to schedule a consultation.